In the fall of 2021, One World launched a multi-year Pandemic Rebuilding Plan with three goals to accomplish over the next three years.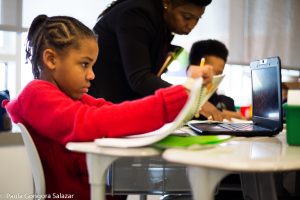 1. Improve and Expand In-School K12 Partnerships
Our goal is to increase the number of students we serve by 50% by 2024. To accomplish this goal, we're building new digital platforms for teachers and students and creating more virtual training for teachers.
2. Grow Afterschool K12 Programming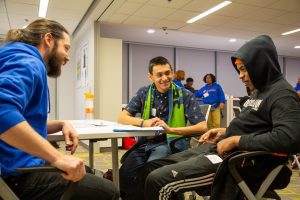 In September 2021 we launched a new afterschool program, the G8 One World Academy, to serve high-potential and underperforming 8th-grade students so they are ready for the transition to high school. We believe this program can lead to 90% of students showing statistically significant gains in research and writing skills and contribute to overall grade and attendance improvement.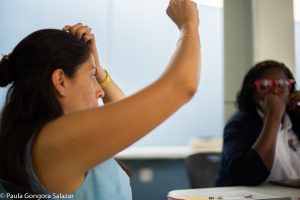 3. Study Adult Learning
Our Adult Program has grown quickly and our partners are requesting additional resources. We'll launch a study to identify best practices in writing instruction and learning with adult students. We'll use this information to develop new curricula, instructional tools, and teacher training modules to inform the sector, as well as contribute to the development of an adult education plan for the organization.
Pandemic Response History
From the beginning, One World has responded to the pandemic with flexibility and innovation.
1: 2020 One World Virtual Challenge
In March 2020, when COVID-19 first forced One World to cancel its afterschool One World Academy, the organization launched online office hours and Zoom classes so students could finish their preparations for a One World Virtual Challenge. It was a smashing success. More than 3,000 One World community members voted on students' work. Students ended up with learning experiences and memories to last a lifetime.
2: 2020-2021 Pandemic Response Project
When the pandemic forced schools to stay closed for the 2020-21 school year, One World was 100% remote-learning ready. The organization had spent the entire summer of 2020 building slide decks to support teachers' instruction of every One World lesson virtually. We added engaging videos for students to reinforce the topics they studied. Student journals were upgraded to support asynchronous work supported by parents. We also updated our research database to address the pandemic, racial inequality, and other relevant topics for today's students.
Our teachers reported that more students were engaging with their writing in our programs than ever before. They wanted learning that was directly relevant to their lives. With students hungry for learning experiences powerful enough to transcend the pandemic, One World's 2021 Virtual Academy and Challenge had one of its largest student cohorts ever, and their work was featured in a Washington Post column by Theresa Vargas.
Watch the 2021 Challenge Awards Ceremony video.
3: 2021-2023 Pandemic Rebuilding Plan
During the fall and winter of 2020, One World's leadership analyzed feedback from our partner schools and studied ways the organization could re-engage students who stopped learning during the pandemic. One World's multi-year Pandemic Rebuilding Plan (detailed at the top) was born.